Features & Activities
The cornerstone of the St. Regis brand is its uncompromising commitment to delivering an unrivaled setting and bespoke service to each and every guest from arrival to departure. One of the most exclusive beach resorts in Abu Dhabi, the St. Regis Saadiyat Island Resort Abu Dhabi offers guests a plethora of services and facilities, each providing guests the opportunities to create unforgettable moments.
Pool & Beach Athletic Club Sandcastle Kids Club Saadiyat Golf Club
Pool & Beach Day Pass
Relax by one of three outdoor pools on our private beach with the St. Regis Pool and Beach Pass. Spend your day on our pristine beach, so sublime that Hawksbill Turtles find refuge in the dunes and dolphins play in the surf along the shore.
Two packages are available with the day pass to suit your requirements. You may purchase your pass from the Family Pool Leisure Desk.
Pool & beach timings
Family pool (Upper deck): 8am - 7:30pm
Family pool ( Lower deck): 9am -6:30pm
Adult pool: 8am - 7pm
Outdoor Lap pool: 9am - 6pm
Beach: 7am to sunset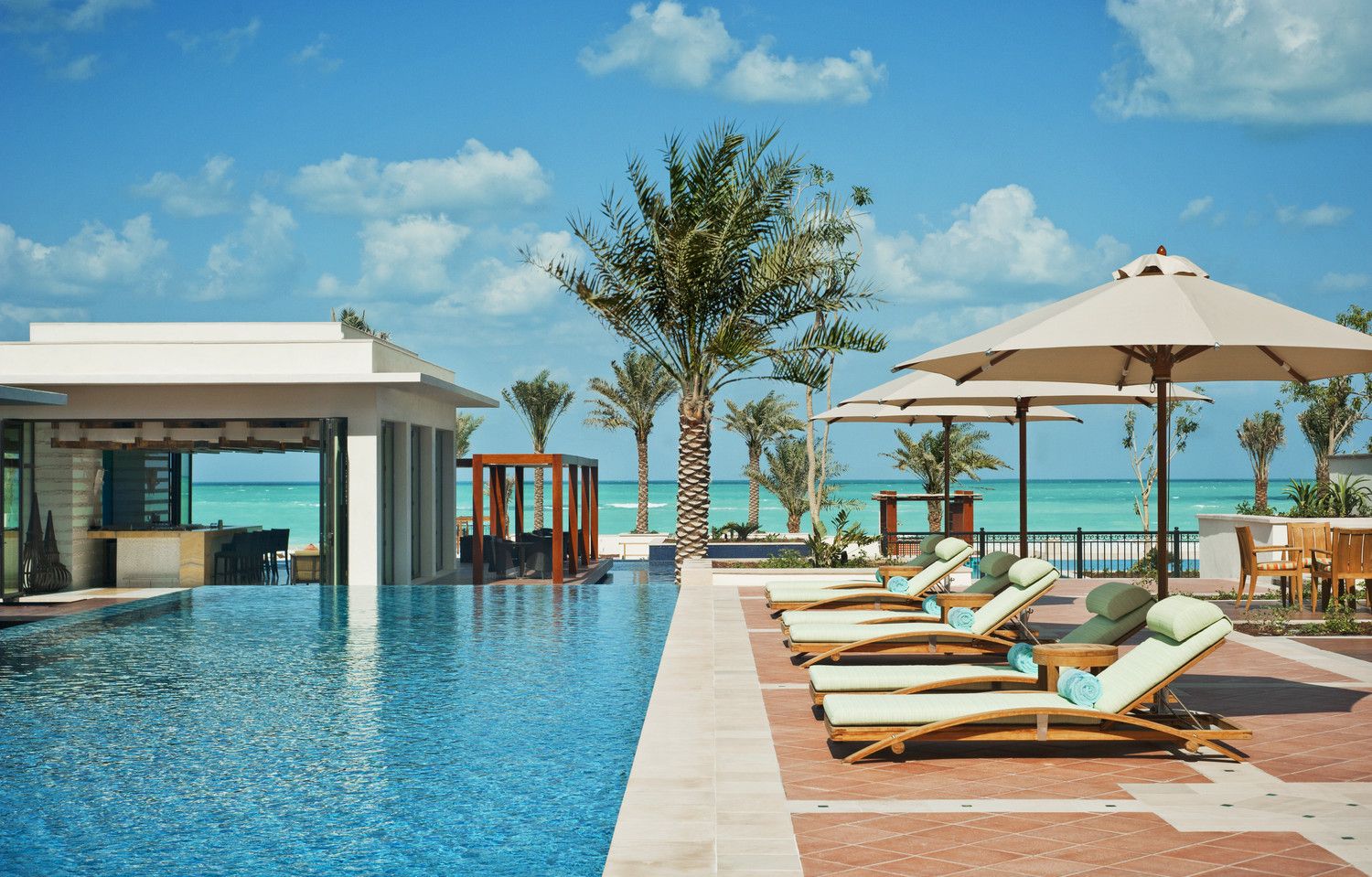 POOL & BEACH DOUBLE INDULGENCE
Blue sky, sand in toes, ocean breeze, and sun kissed hair, salty air, beachy tunes and sunny days…
The perfect escape and it can only get better! Spend your day by one of 3 outdoor pools or our pristine private beach and enjoy culinary delights from either Sontaya or Turquoiz with our food & beverage voucher.
Single pass: AED 250 per adult including AED 100 F&B voucher
Couple pass: AED 500 per adult including AED 250 F&B voucher
Children pass: AED 125 per child (4-12) including AED 50 F&B voucher
You may purchase your pass from the Family Pool Leisure Desk.
Offer valid until 30th November 2016
All prices in UAE Dirhams and subject to 10% Service Charge and 6% Tourism Fee & 4% Municipality fee. Applicable Sunday – Thursday - Subject to availability.
The St. Regis Athletic Club
The St. Regis Athletic Club comprises a large state-of-the-art gym, a juice bar and 25-metre indoor lap pool for the health conscious guest. This exclusive fitness center in Abu Dhabi includes two tennis courts, two squash courts and four outdoor swimming pools including an adult pool with private seating bays.
Facilities operational hours:
Gymnasium: Accessible 24hrs
Squash & tennis: 6:00am to 10:00pm
Indoor Lap Pool: 6:00am to 10:00pm
"Win some, Lose some"
Look and feel your absolute best while supporting s charitable cause during a one weight loss challenge. Your hard work will be monitored by our professional trainers and after 30 days of dedication, a lucky winner will be rewarded with a one night stay for 2 persins in a Superior Sea View including a luxurious buffet buffet breakfast st Olea.
AED 300 per person and you are entitles to participate in all Group Classes and access Gym equipment at the Athletic Club.
Contact us to schedule your classes on
Tel: +9712 498 8777
Email: athleticclub.saadiyat@stregis.com
View The St. Regis Athletic Club classes
Sandcastle Kids Club
An adventurous and enchanting play area offers delight in a safe environment. Sandcastle club with captivating activities and thoughtful, welcoming attention tailored for younger guests, The St. Regis Saadiyat Island Resort celebrates the art of play.

Set within a themed cave, with soft earth colored drapery, play areas inside and out, a sand pit and an outdoor pool, the dedicated children's club will inspire the imagination and create lifelong friends for the little aficionados in the making.
Opening Hours:
Weekdays: 9am - 6pm Weekends: 9am - 7pm (incl. Public holidays)
The sandcastle club is ideal for ages 1 - 12 years old featuring indoor and outdoor activities. There is also an outdoor activity pool and also age based activities with trained staff are available. Should you wish to arrange nanny service, it is also available (24 hour advance booking required)
*Children under the age of 4 years must be accompanied by their parents or nannies.
Saadiyat Beach Club
Providing a 'place to breathe' away from the hustle of city life, Saadiyat Beach Golf Club harnesses the stunning beauty of Saadiyat Island to create an unparalleled experience, made all the more rewarding with spectacular views of the Gulf's glittering crystal blue waters fringed by pristine white sands.
Saadiyat Beach Golf Club, with its Gary Player designed course is one of the world's most captivating golfing projects.
The course itself has been designed to entice golfing enthusiasts from around the world with some of the most spectacular golf hole designs.
The course design has been set up to cater for all types of players starting at 5290 yards, to the most challenging environment for the world's leading tour players at 7806 yards
While much has been invested in Championship tees, each hole is designed to accommodate all levels of golfers. Saadiyat Beach Golf Club offers each golfer, regardless of ability, a "Member for a Day" experience with the optimum level of genuine customer service, from personalized lockers and bag tags to those personal touches from our multi-cultural staff.